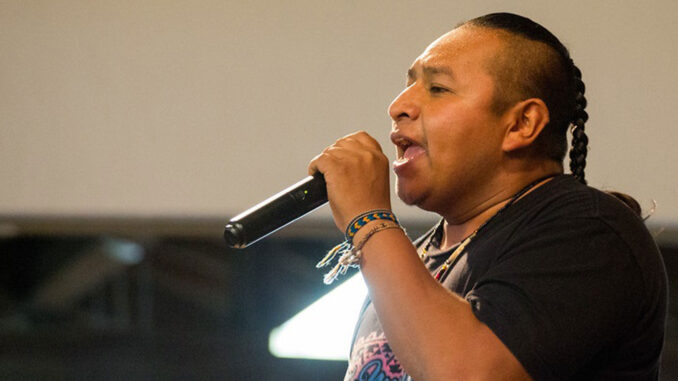 BY ANNE STOKES
Rapper reaches out through music

Sometimes, it's not just what you say, but how you say it that matters.

For many San Joaquin Valley residents, language can be a barrier that keeps them from being counted in the upcoming Census. To help his community understand what's at stake, Miguel Villegas is speaking up in a unique way to encourage people to stand up and be counted — through rap.

"It's really impactful because it shows the three different cultures that I navigate, and that's the reality of many people here in the valley as well," says Villegas, who performs under the Mixtec stage name Una Isu. "When they see their language in a song or a video, they pay attention to the message and it gets to them more deeply."

Villegas is trilingual, speaking Spanish, English and Mixteco, a language from the state of Oaxaca, Mexico. He's also the program coordinator and Census outreach worker with Centro Binacional para el Desarrollo Indígena Oaxaqueño (CBDIO), an organization that serves indigenous Oaxacan communities throughout California. The nonprofit empowers communities through civic participation, leadership development, education, workers' and immigrants' rights and more. Villegas says it's important that the Census count identifies the large populations of indigenous communities living in the San Joaquin Valley and by ethnicity, although many assume they're unable to be counted.

"Many of the resources that come into our community are determined by the number of people who live in this community," he says. "It's really important because we need to be considered for those resources when it comes to our schools, our neighborhood and our city."

In addition to music, Villegas' outreach efforts involve canvasing neighborhoods and reaching out to agricultural workers in the field (literally) to educate them on just how important it is for them to be counted and help them with any questions they may have about how to fill out the Census form.

"Our job is to inform them that it's really important to [be counted in] the Census because it doesn't matter what [immigration] status you have, everybody needs to be counted," he says.

For more information about CBDIO, visit www.centrobinacional.org or call 559-499-1178. To take the Census online, visit www.my2020census.gov.