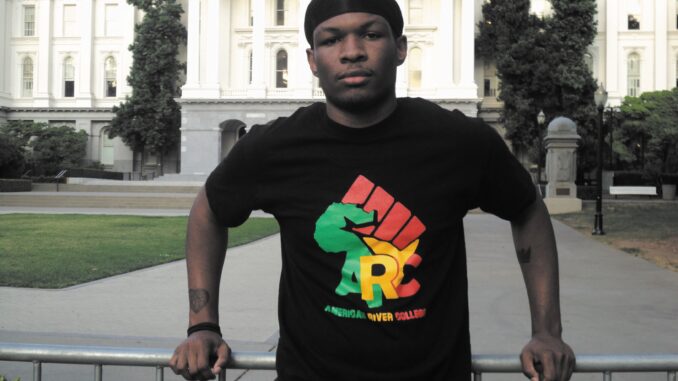 BY EDGAR SANCHEZ
The 2018 killing of Stephon Clark by Sacramento police deeply impacted Josh Harris, an American River College student. Shocked and angry, he became an activist against police brutality and has joined protests organized by Black Lives Matter, or BLM.
In May, after Minneapolis police murdered George Floyd – whose name, like Clark's, is now on the long list of unarmed African Americans slain by law enforcement – Harris vowed to continue to speak out against what he termed police oppression of Black people.
"The police are dangerous," Harris, 23, who is African American, said recently amid the latest BLM protests in Sacramento. "We need to defund them so they can't be a weapon against our communities."
He wants police held accountable for murder, whether the innocent/unarmed victims be Black, Latino/a or of other races.
He is not alone.
As Harris chanted "No justice, no peace, no racist police!" in day-after-day local protests after Floyd's death, marchers worldwide also demanded a halt to police violence.
The ongoing protests have a seemingly unstoppable momentum and have involved people of all races supporting systemic reform of law enforcement, the courts and the carceral network. It's a historic moment with great potential.
By mid-June, Harris had participated in 10 local protests, most of which involved Capitol Park rallies.
Like Capitol Park's mighty trees, many who mobilized there seemed to be from around the world.
Harris said, "There were Latinos, Native Americans, Muslims, Asian Americans, Sikhs, whites" and others, including LGBTQ+ people, protesting in solidarity with Blacks.
At times Harris marched beside his mentor, Ryan McClinton, a community organizer for Sacramento Area Congregations Together, which is supported by The California Endowment.
"Ryan is like a big brother to me," Harris said. "He taught me humility" and the importance of helping others.
Harris never met Stephon Clark.
But last fall, recalling Clark's tragic death, Harris told this column: "I feel like Stephon Clark was my brother."
Harris sharply criticized the over-reaction of two Sacramento police officers, caught on tape, who killed Clark in the backyard of his grandmother's Meadowview home on the night of March 18, 2018.
Seeking a fence-hopping man who was smashing car windows, the officers fired 20 shots at Clark, believing he had pointed a gun at them. At least seven bullets struck Clark, 22, who was holding an iPhone.
No charges were filed against the police.
"I have three younger brothers," Harris would later say. "I don't want them shot by police for being Black."
His brothers – Levi, 20, Jeremiah, 14, and Titus, 8 – are wary of anyone with a badge and gun.
"The police are dangerous."

Josh Harris
Sophomore, American River College
For more info, visit www.sactakethepledge.com