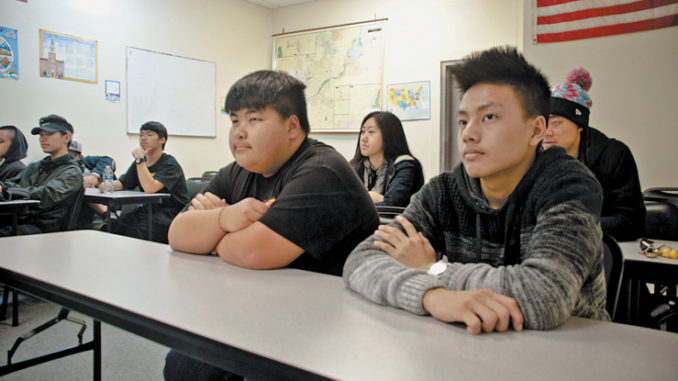 BY EDGAR SANCHEZ
Four years ago, Dexter Niskala, then a junior at Luther Burbank High, campaigned for Measure Y, which would have created a new tax to fund children's programs in Sacramento.
"I asked hundreds of voters to support Measure Y," Niskala recalled recently.
In June 2016, the initiative was narrowly defeated, falling about 1% shy of the 66.67% supermajority vote required to win.
"Even though we lost," most voters were pro-youth, said Niskala, now a 21-year-old sophomore at Sacramento State University.
Today, Niskala is campaigning for Measure G, which, if approved by voters on March 3, would require the city of Sacramento to allocate 2.5% of its general budget — about $12 million annually — to youth programs run by the city and nonprofits. This would be in addition to the funding that Sacramento currently devotes to youth programs each fiscal year.
Because Measure G is not a tax, it needs 50% plus one vote to win.
A coalition of 28 organizations — many of them supported by The California Endowment, which has no position on the initiative — has mobilized for Measure G's passage. They include Sacramento Area Congregations Together and the local chapter of the East Bay Asian Youth Center, for which Niskala works.
Measure G proponents collected about 39,000 voter signatures to qualify it for the March primary.
The measure would strengthen critical resources that help impoverished children succeed, said Ana Taukolo, of the Sacramento Youth Alliance, which is part of the Alliance for Education Solutions, a coalition member.
"For me, it goes back to the saying, 'It takes a village to raise a child,'" Taukolo, 23, said, adding that now, it takes a nation to do that.
"Our villages, our (poor) communities, are hurting," she said. "I would like to see more funding for organizations that are on the ground, in the neighborhoods that are hurting the most," trying to help youth.
Measure G would make that possible, she said.
"I would like to see more funding for organizations" trying to help youth.

Ana Taukolo, age 23
By serving children and youth most impacted by poverty, trauma and violence, the measure would increase graduation rates and keep kids out of the criminal justice system, said Jim Keddy, of Youth Forward, another coalition member.
Sacramento Mayor Darrell Steinberg is seeking to place a counter-measure for youth funding on the November ballot. If Measure G passes, it would be superseded by his proposal, which would generate varying amounts of youth funds annually, depending on the economy.
Based on city budget projections over the next four years, the counter-measure could provide between $2.5 million to $3 million to youth-serving programs per year.
For more on the mayor's plan, visit https://engagesac.org/blog-civic-engagement/2020/1/29/a-better-way-mayor-steinberg-offers-plan-to-boost-funding-for-youth.
For more details on Measure G, click "Learn More" below.