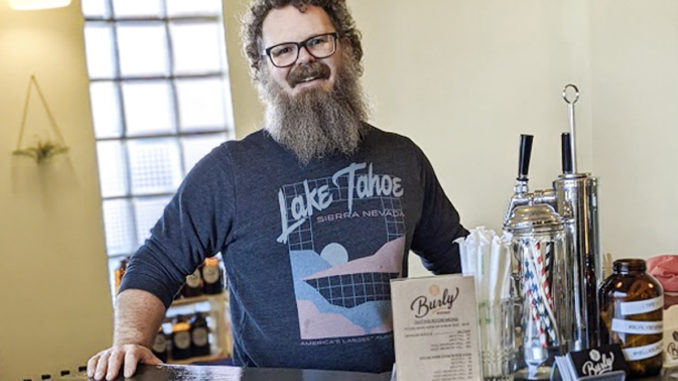 Burly Beverages is hand-crafting old-fashioned elixirs to quench the thirst of new generations
BY ALLEN PIERLEONI
It's fitting that Gabriel Aiello chose a building from the 1930s as the site for his Burly Beverages, and matched the name to fit the atmosphere.
"I like to think of it as a soda speakeasy," said Aiello, who opened in May 2017. "I chose 'Burly' because I wanted a Prohibition-era word that represents big, bold and strong. I tried to keep the vibe here as 1930s as possible, even playing music from the era. It fits with what we're doing."
What he's doing is hand-crafting retro vinegar-based syrups in small batches that turn into refreshing elixirs when mixed in ratio with sparkling mineral water or seltzer (avoid additive-filled club soda, he advises).
Yes, Aiello makes syrups for sodas ("Our ginger beer is the flagship that started it all"), but more interesting are his historically grounded shrubs, soon-to-return switchels and a new line of cordials.
The switchel was popular in colonial times, a mix of vinegar, water, ginger and molasses or honey, consumed in quantity for hydration and energy by thirsty farmers working in the fields (thus its nickname, "haymaker's punch").
The shrub originated in 17th century England as a way of preserving seasonal fruit in a vinegar-sugar solution, and migrated to colonial America. In recent years, a more refined version of the syrup has trended across the U.S. as a sweet-acidic mix for cocktails and nonalcoholic drinks.
"We make them with whole spices, real herbs and (minimally processed) turbinado sugar. No dyes or chemical preservatives. As much as possible, we source within 50 miles of Sacramento," said Aiello.
Burly is Slow Food-certified, and its shrub is on Slow Food's Ark of Taste list of endangered heritage products that are being saved from extinction.
Depending on the season, Burly has 20 to 35 flavors on-site, including black lime-bay leaf and blueberry-rosemary. "Anybody can come in and taste any or all of the products, at no charge," Aiello said.
Some of the shrub and soda syrup flavors are distributed throughout California, Nevada and Arizona, with Washington coming online. Stores and bars around Sacramento sell and serve them (see the website for a list).
This all got started because of Aiello's futile search for the perfect ginger beer. "But I couldn't find one with enough ginger and without corn syrup and other additives," he said. So he set out to make his own. After years of experimentation and a segue to multi-flavored syrups, he opened for business.
"This feels amazing, but we have a lot of work left to do," he said.
As for Burly's location on Del Paso Boulevard, "its current revival has the best chance of sticking," he said. "It's really cool to be part of it."
One last thing: If you and your friends want an introduction to shrubs, you can book a private tasting at Burly via its website. Bring your own bottles.
Special Event
Burly's annual Backyard BBQ will feature six bands, and food and drink for sale; no admission fee. 2 to 8 p.m. March 28 at 2014 Del Paso Blvd. Information: 916-333-3879.