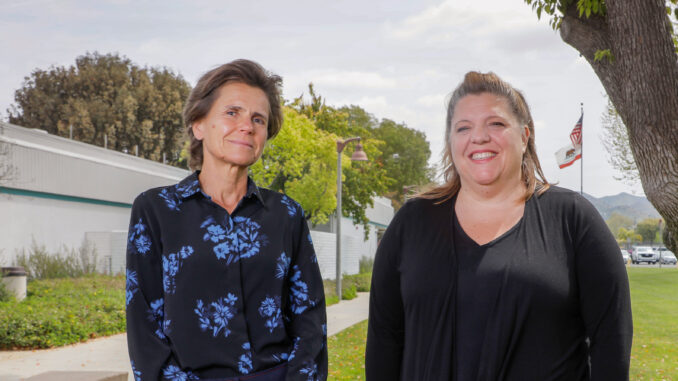 by Anne Stokes
In many ways, adult education is the best-kept secret up and down the state. And people who do know adult education exists often think it is only for learning English or finishing high school. But today, adult education offers so much more: Opportunities to start a new, well-paying career abound, including in-demand jobs in health care, manufacturing and information technology. Such careers are life-changing for individuals and their families, as well as the communities in which they live and work.
"The misconception is that we are only working in those two program areas (ESL and GED) and that we support only a very distinct group of adults. What we're working on very hard is to share that adult education is a very comprehensive system that supports any adult learner holistically, regardless of where they start," says Ute Maschke, manager for East Region Adult Education. "We respect and appreciate the experience—life and work wise—that our adult learners have and bring to the conversation. Then we explore with them, 'Where would you like to go next?' It's never a question for us that a next step is possible."
In 2013, California bolstered adult education programs with $25 million in grants to help consortia develop and expand programs. Grossman and Cuyamaca community colleges, together with Grossman Union High School District's adult education program, joined to form the ERAE to apply for funding. With that funding, they were able to create a blueprint that enabled them to collaborate and expand their educational opportunities and support for the communities they serve. Soon after, they were able to welcome the Mountain Empire Unified School District into the consortium as well.
"I think that's one of the strengths of a consortium approach. We are able to develop pathways that encourage/enable a language learner to join at a point when they feel ready, or someone who wants to strengthen their academic skills at another point, and then others to join retraining programs with the proper language and academic skills support," says Maschke. "Career training has always been a strong part of adult education, … I think these programs are becoming more and more the backbone of adult education. We just need to raise more awareness and meet our adult learner where they are."
An important part of career training is ensuring there are quality jobs and careers available for graduates. To that end, the ERAE works with community and business partners to make sure the skills they're teaching are the skills employers need.
"We're really working with employers to figure out who they're hiring, what are the knowledge, skills and abilities students need to be successful in the workforce and how do we infuse our courses with those knowledge, skills and abilities so that our graduates come out prepared to get a high-wage, high-demand job," says Sally Cox, CEO of the Foundation for Grossmont and Cuyamaca Community Colleges and fiscal agent for ERAE. "We really benefit employers because we're helping them get their talent pipeline, helping them build their workforce for the future. We benefit the community too: We all want to have educated, prosperous neighbors."
Throughout the consortium, educators and administrators understand that students' success depends on support in and out of the classroom. In 2016, ERAE invested in a transition services program that employs a team of support specialists who work with students from enrollment through graduation—and beyond. There is help navigating the educational systems of adult school, community colleges and university programs, as well as finding employment. But supports also extend to, for example, food distributions and emergency scholarships for those enduring financial hardships.
"Adult learners need ongoing support to reach their goals, especially when those goals include transitioning into post-secondary programs or into better employment. Support with scheduling, time management, housing, system navigation, all of that is crucial to their success," Maschke explains. "We are able to offer these support systems through the consortium and across two East San Diego counties. Students supported by a team of transition service specialists are able to make better decisions, connect the dots, if you will, between programs and services offered and their own goals and dreams.."
Combining low- and no-cost programs with low-barrier requirements—and programs that meet students wherever they are on their educational, professional and personal journey—adult education is an accessible option for nearly anyone.
"There are so many opportunities for people to take classes and we want them to graduate. We want them to come in and be successful and I think that feels different than adult education and college felt to a lot of people in the past," Cox says. "Our goal is really to help lift up our whole community so that there are opportunities for people and there's hope."
For more information on the programs and opportunities available through East Region Adult Education, visit www.adultedworks.org or call (619) 588-3512.