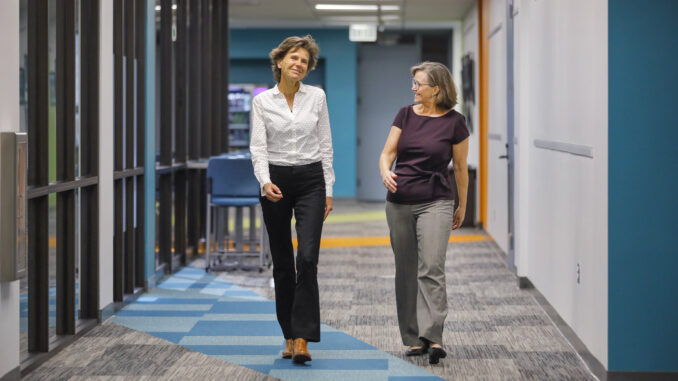 by Anne Stokes
The idea of going back to school can be daunting, especially for adult learners who may already be working and supporting families. But according to Ute Maschke, adult education is not about "going back."
"This is going forward. Adult education is not about going back to school—adult education is about making new, informed, innovative decisions based on the proper support structure that meets learners where they are at and that has an open door for everyone," she says, likening adult education to a complex subway system. "There are many more options, there are many more on- and off-ramps, and there are many more stations where I might … discover a better goal. I think adult education is breaking from this narrative where education and training is what happens in a linear fashion. I think we are saying that's not really the case for many communities we work with."
As manager for the East Region Adult Education, Maschke sees how adult education opportunities not only improve the lives of students and their families, but uplift local economies and communities. The consortium is comprised of three members, two K-12 adult education providers—Grossmont Union High School District and Mountain Empire Unified School District—along with Grossmont-Cuyamaca Community College District. All three districts serve a diverse combination of student needs and demographics.
"We have students from every age, every demographic (and) every income level. Some are coming in to pay for our community enrichment and others are very recent refugees who … are trying to rebuild their lives and learn the language," says Kim Bellaart, director of Grossmont Adult Education. "I think joining us together as a consortium has really helped us work together to streamline services we can offer students, whether they are coming from a rural area in Mountain Empire or a more urban area in El Cajon. As a consortium we're really able to pool our resources and pool our best thinking together to provide services for that wide variety of students."
In addition to free English as a second language and high school diploma and equivalency programs, adult education includes a wide variety of career training opportunities always at a much lower cost than private programs. Health care is one of the robust career training programs offered. Through the Health Occupations Center, opportunities include:
Licensed vocational nurse (LVN)
Certified nursing assistant (CNA)
Veterinary assistant
Phlebotomist
Registered dental assistant
Emergency medical technician (EMT)
Pharmacy technician
Medical assistant
In addition to the medical field, adult learners can go into other technical career training programs such as:
Entrepreneurship
Finance
Automotive
Manufacturing
Construction
Transportation
Real Estate
Business and office technology
Cosmetology
Education
Students can also co-enroll in community college courses tuition free—and earn college credits—while finishing high school diploma or equivalency courses. And ESL classes also include workforce preparation elements so adult learners can gain the skills they need to enter the workforce more quickly. In addition, transition specialists support students in and out of the classroom with help navigating the educational system and finding employment, as well as with food distributions and emergency scholarships so those facing financial difficulties don't have to drop out.
"A community is always stronger and better when adult education is part of the ecosystem," Maschke says. "We have a tagline: 'Education that works. Transitions that matter. Students who succeed.' It's those three things that we are striving for; meaningful training programs that are applicable to the situations of our adult learners and that are applicable to their life outside of work. Transitions that matter mean that we support students in gaining the skills to become independent lifelong learners who are able to navigate systems, … all the way to a meaningful career. And the students who succeed are the students who are able to make informed decision that help them live a meaningful life."
For more information on the programs and opportunities available through East Region Adult Education, visit www.adultedworks.org or call (619) 588-3512.