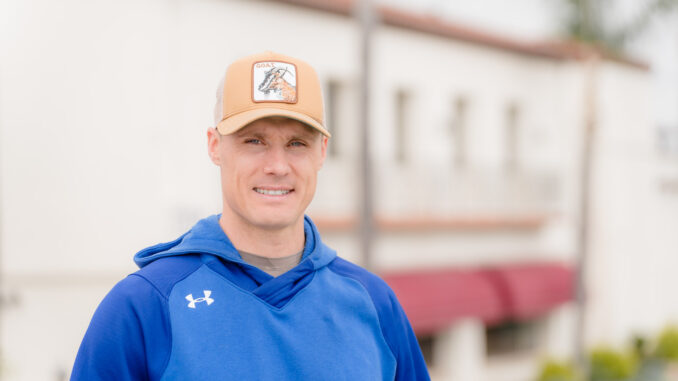 by Krysta Scripiter
Sergei Koltovoskoi came to America to find opportunities, the fitness instructor says. Thanks to Huntington Beach Adult Education's English as a Second Language program, his search was made a lot easier.
Koltovoskoi, 36, came to the U.S. with his wife, Viktoriia, and their two children eight months ago from Russia.
"I came here because here, there are a lot more opportunities for me and for my family," he says.
Koltovoskoi worked as a conditioning coach in Russia before moving to Los Angeles. He had some familiarity with English before, but it wasn't enough to get him where he needed to be, he says. When he found out about Huntington Beach Adult School's ESL course, he and his wife attended language courses together.
For him, Sergei says, the language course was a chance to better adapt to his new environment and find a job quickly. In fact, his ESL teacher was instrumental in helping him find and apply for jobs and directed him to staff who could help.
"I went to the manager's office and they helped me find a job," Koltovoskoi says. "They helped me recreate my CV and prepare for my interview."
Thanks to the staff at Huntington Beach, Koltovoskoi was able to find a job working as a conditioning coach in Los Angeles, building on his previous experience in Russia. He and his wife, who now works from home with Amazon, took the ESL course for six months.
"For me, the language course helped me practice with the other guys," he says. "It's easier with people now. I can relax here."
Koltovoskoi hopes to take more courses on sports and coaching in the future. He appreciates his time at Huntington Beach Adult School and highly recommends it to others.
"I like the program. I like my teachers," He says. "It's simple. I understand everything. For me, it's no problem."
For more information about Huntington Beach Adult School programs, visit https://www.hbas.edu/