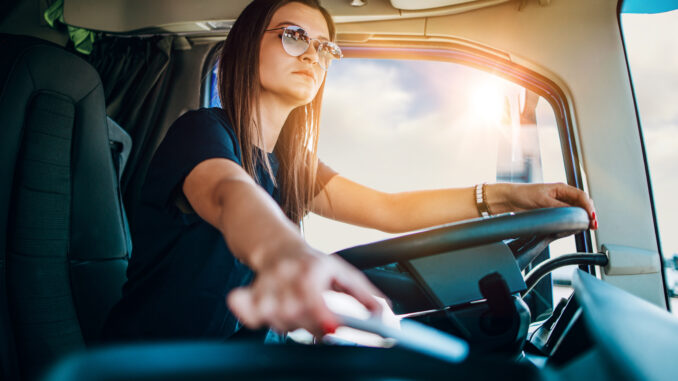 by Raul Clement
Brandon Rodegeb remembers the countless hours he used to spend each week applying for job after job.
He was ready to work and qualified. In fact, some might say he was too qualified. Once upon a time, he had been an executive at Tower Records. He was also a record producer and filmmaker with albums and IMDB credits under his belt.
But in the early 2000s, the music industry started to collapse, and he was arrested for drugs and weapons possession. Once on probation, he found himself dealing with rejection from a society that no longer wanted him,
"I couldn't get the most menial of jobs," says Rodegeb. "They ignored that I had vice-president at a major retailer on my resume because I didn't fit the mold."
Then, he found a path forward. He learned about Michael's Transportation Services, based in Vallejo, which runs a training academy specializing in commercial licenses. They were looking for people just like him.
MTS Training Academy is a participant in a state-funded prison-to-employment program. Since 2010, when they received their first grant through the Solano County Probation Department, they have made it their mission to train justice-impacted individuals in the operation of commercial trucks and buses. Some of these individuals go on to work for MTS itself, while others find work at partner companies. MTS Training Academy boasts a placement rate of nearly 70% within six months of completion.
"Commercial driving is one of the more favorable career options for reentry clients," says Keith Judkins, Director of the Training Academy. "At the end of the day, what they're looking for is somebody who has the credential and a willingness to work. If you meet those two criteria, especially in this time, companies are willing to give you an opportunity."
"As far as we're concerned, you've paid your debt to society. Let's go to work."

Keith Judkins, Director of the MTS Training Academy
When Rodegeb got his opportunity, he made the most of it. After leaving the Academy, he was hired on by the MTS parent company as a Class B transit driver.
"I went from scrounging pennies to a job paying $50,000 a year," he says.
When the COVID-19 pandemic began, the bus industry took a massive hit. MTS suffered a round of layoffs, but Rodegeb was asked to stay on. The company knew about his background as an executive and thought he could be an asset in their IT department. Just two years later, he became the IT Department Director.
He credits it all to that initial opportunity.
"There are not a ton of pathways for those who have felonies," he says. "So these prison-to-employment programs, they matter more than anyone understands."
And if these programs represent a second chance for people like Rodegeb, for the transportation industry they fill a practical need. Even more than other industries, commercial driving is suffering from a severe labor shortage. Meanwhile, every year, California releases 36,000 inmates. Why not tap into such a vast workforce?
"We need these trucks to move," Judkins says. "We need these buses to move. As far as we're concerned, you've paid your debt to society. Let's go to work."
MTS Training Academy is one of dozens of Solano County community partners that make up the Systems Impacts in Solano Network established by the Solano Workforce Development Board. This group communicates regularly with information and referrals for services and resources specifically for justice-impacted individuals and their families.
The network was established utilizing funding from the state's Prison to Employment program. Partnerships that have developed because of this group have led to inspiring stories of individuals, like Rodegeb, able to overcome justice-impacted barriers through the help of community organizations.
To find out more, visit https://www.solanoemployment.org/