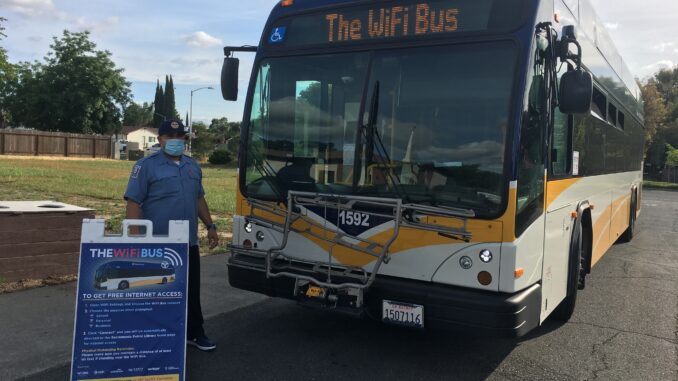 When is a bus not a bus? When it's a Wi-Fi hotspot, of course.
Between May 4 and July 1, Sacramento Regional Transit District deployed 10 repurposed buses, which provided 60 days of free wireless broadband services to surrounding homes and businesses during the COVID shelter-in-place orders.
Locations were chosen in communities with limited high-speed internet access and included, for example, the Martin Luther King, Jr. Library, the Del Paso Heights Library, Ethel Baker Elementary and Max Baer Park.
The pilot program was part of the state's efforts to support distance learning, since kids' school Chromebooks are only functional when they're connected—and statistics show one in five students can't access the internet from home. In fact, approximately half of low-income families do not have broadband service, citing affordability as a primary barrier, and must rely solely on cellphones.
"These mobile WiFi Bus hotspots will help remedy the lack of internet access that threatens to leave thousands of our students farther behind," Mayor Darrell Steinberg said when the program launched. "I hope to see it replicated on a larger scale around California."
The buses also helped people work from home and use telemedicine to see their doctors, all things that would have been difficult or impossible in neighborhoods now being identified as "digital deserts."
"COVID-19 has put a spotlight on a critical need in our community," says Louis Stewart, the chief innovation officer for the City of Sacramento, which collaborated with SacRT along with other public and private agencies.
Each bus parked at two locations a day for three-and-a-half hours, a schedule that could be followed via the SacRT website, but also with a mobile app developed through a volunteer effort by the Sacramento-based Symsoft Solutions. The equipment on board the buses was also provided free of charge by major telecommunications companies such as AT&T, Verizon Wireless and T-Mobile.
"This innovative WiFi Bus project helped close the digital divide and provided vital high-speed internet services to our communities," says David S. Kim, the secretary of the California State Transportation Agency, which also partnered on the project with Sac RT. "Using buses to deliver broadband connectivity is creativity at its very best."