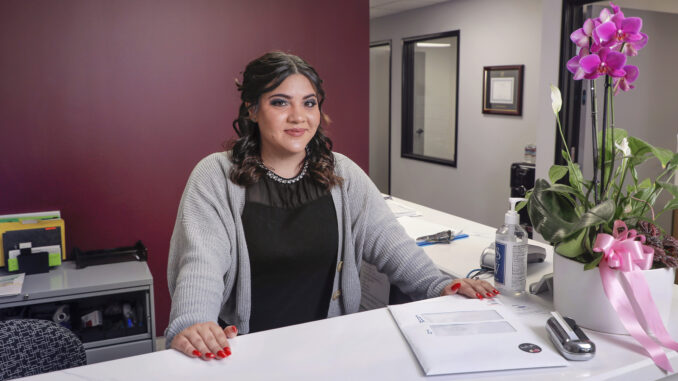 by Raul Clement
Angel Arenas' educational journey was interrupted when she had her first child while still in high school. She dropped out of school and became a stay-at-home mom, but she always planned to continue her education one day.
"We were three generations of non-graduates in my family," Arenas says. "It was important for me to go back."
Years later, and now the mother of three children, Arenas was able to go back to school during the COVID-19 pandemic as more online classes became available, lessening the difficulty of balancing schooling and childcare. She picked Grossmont Adult Education in El Cajon.
It turned out to be the perfect choice.
Not only did she get her high school diploma in less than a year, but GAE opened the door to an unexpected career path: accounting. She initially chose accounting because it seemed practical. Her husband worked in an office with an accounting department. She knew that the employees there made a good income. And GAE had an accounting certificate program, making the transition easy.
This turned out to be another great choice. She got her accounting certificate and is now enrolled in Grossmont and Cuyamaca colleges, working on her associate's degree. The program will take two years, but so far it's going well.
"I actually have straight As," she says. "I thought it would be harder because I'm a first-generation high school graduate. It always seemed impossible to go to college. But I realized that I'm actually good at math and all that, so it's honestly pretty easy."
One thing that made the transition easier was the partnership that connects GAE to the Grossmont-Cuyamaca Community College District. Both are part of East Region Adult Education, a consortium of education providers in San Diego County. ERAE has three main members: Grossmont Adult Education; Grossmont-Cuyamaca Community College District; and Mountain Empire Unified. Grossmont Adult Education alone has 53 sites, including Foothills Adult Center where Arenas started, and serves over 12,000 people.
This partnership makes it easier for the consortium's transition specialists to guide students like Arenas through the various stages of their education. Once a student decides on a career path, there are plenty of resources for them within the ERAE system.
"My transition specialist's name is Chris," Arenas says. "He's been with me since I was doing my high school diploma at Foothills. So he's been there for me through getting the high school diploma, and then helping me sign up for their accounting certificate class. He helped me sign up for college. And in a couple hours, he's going to do another meeting with me to help me select next semester's classes. So he still follows me two years into this."
Chris even helped her get a job in her chosen field. When he and one of her GAE instructors saw how well she was doing in her accounting classes, they recommended her to a year-round tax office.
"I was nervous because I've been nervous through all of this," Arenas says. "I don't have a supportive family in this. I almost didn't go to the interview. But everyone was like, 'You got this.' So I went, and the people there really liked me and hired me on the spot."
She's now been working for the tax office for six months, her hours increasing to 36 per week during the height of the tax season. She's balancing this with her accounting classes and motherhood. It sounds like a lot, and it is. But she has no plans of quitting, and in fact plans to attend San Diego State University after community college with the eventual goal of testing for her Certified Public Accountant license.
She credits a lot of her academic success to her transition specialist.
"They've been there every step of the way," she says, "kind of like a best friend, just being supportive and non-judgmental. They're the only reason I was able to get to where I am now."
For more information on the programs and opportunities available through East Region Adult Education, visit www.adultedworks.org or call (619) 588-3512.