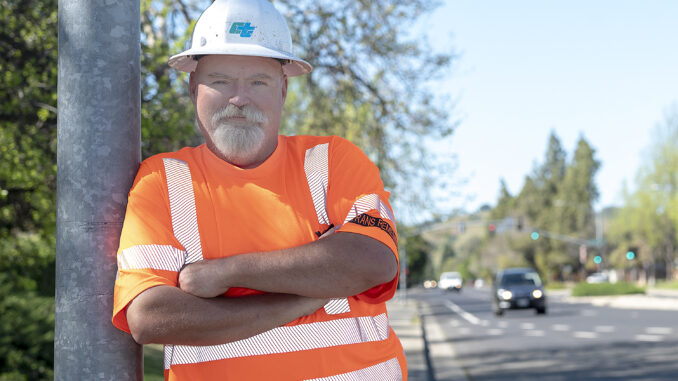 by Jill Spear
As director of the Solano County Center for Employment Opportunities, Dr. Marcus Mills and his team have seen firsthand the impact immediate and effective employment services can have on individuals with justice backgrounds.
"Employment is one of the surefire ways to reduce recidivism," Dr. Mills says.
His organization is the nation's leading nonprofit for re-entry workforce development. CEO Solano opened in July 2019 and offers a comprehensive program comprised of job readiness training, on-the-job training, job coaching and job placement. CEO also partners with the Workforce Development Board of Solano County through the Prison to Employment program.
Britton Schutte is one of CEO's many success stories. He was connected with the organization in June of 2021. He started off working on his resume and mock interviews and had transitional employment through CEO's contract with the California Department of Transportation (or Caltrans).
This on-the-job training program could last several months depending on each client, with participants working three to four days a week. The work itself involves freeway beautification and pays daily. This job readiness training prepares participants for full-time employment.
Schutte, a veteran of the U.S. Army who served in Afghanistan and Iraq for 14 years, says of his on-the-job training, "I've always had a strong desire to serve my people—and that's everybody here in the United States. Helping CEO as a crew coach was an extension of that."
He soon became a driver with the beautification crew. He volunteered to become a crew coach and mentored other people, evaluating their work performance.
"We recognized his leadership qualities quickly," says Dr. Mills. "He's a very hard worker, has incredible interactions with the other participants, and is an all-around great guy."
Schutte told CEO he was interested in working for Caltrans and Mills and his team arranged for him to attend a Caltrans job fair. He was hired by Caltrans to do road crew maintenance work in January 2022. He is currently in the retention program and aspires to move into management for Caltrans.
"CEO is a very positive place to restart your life. They really work hard to find jobs and careers that break the cycle, and they change a lot of lives for a lot of people," he says.
As part of CEO's program, each participant in job readiness training has weekly meetings with a CEO employment counselor, who helps with practice interviews, developing a resume and addressing any barriers to employment.
Next, participants work with a job developer who helps with matching and placement. CEO's job developer creates partnerships with employers in the community, which provides opportunities in a variety of fields.
To help ensure that individuals in the program are successful in the workplace, CEO provides retention services. For a year after landing a full-time job, participants receive any support they need.
"We have a robust program that we were able to align with the Prison to Employment grant," Dr. Mills says. "As we enroll people in the grant, we receive funding which helps cover the costs for the participant throughout their journey in the program."
To learn more, visit https://www.solanoemployment.org/