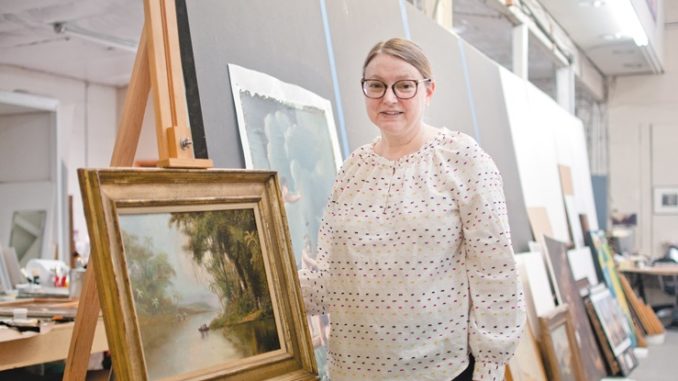 Art conservator Karen Alkons rescues art and history from oblivion
BY ALLEN PIERLEONI
Karen Alkons is in the rarefied business of professional patience, but that's just part of it. Her acute eye for color and unwavering attention to detail allow her to do what very few others can.
Simply put, she and her husband, James Alkons, owners of Northern California Art Conservators, clean and restore oil paintings and art on paper, among other specialized services. What they really do is preserve pieces of the world's cultural heritage, and rescue from oblivion the tangible results of creativity and genius.
"Having the talent and the ability to do it is where you start, then you need the training," said Karen Alkons, who apprenticed and trained at several hallowed grounds of art conservatism, including the Museum of Modern Art in San Francisco.
"Patience is a big, big part of it," she said. "You can't get impatient and say, 'This color isn't going right, I'll just make a new cloud here.' You have to adhere to the standards of the field." Alkons is a member of the American Institute for Art Conservation and holds a degree in studio art from UC-Davis.
"Most art coming in from Sacramento is 75 to 100 years old, and typically has accidental damage or surface grime," she said. Clients include "people who have Grandma's art and need it fixed, and private clients and institutions (including) the Crocker Art Museum and the Haggin Museum in Stockton."
Alkons has handled many projects that have been special to her, including the cleaning and varnishing of a massive 19th century Thomas Hall painting of Yosemite Valley. It hangs with other Hall paintings in the Crocker's Gold Rush Gallery.
One of her jobs for the Haggin was restoring 20 prints for an early-1800s first edition of James Audubon's "Birds of America."
A current project is the restoration of a 4-1/2-foot-by-5-1/2-foot oil painting likely from the early 1700s. The artist, origin and title are unknown. "We have no frame of reference, so we're still in the discovery phase," Alkons said.
"The most difficult object to work on is a painting that's losing its paint," she said, indicating the painting, so splotchy and dirty that the image was mostly indiscernible. "When it came in, we couldn't tell what it was. All you could see were a woman's two feet. It may look fragmented now, but I'm quite happy with the work we've done so far." Total investment by the time Alkons is finished will be nine months, she estimates.
One thing that irks Alkons is when "people put up a barrier between themselves and the fine arts. They say, 'I don't understand it.' Until they go into an art museum like the Crocker, they're not really going to know that," she said. "Our brains are hard-wired to see imagery, so go and just enjoy what's there. You may find you connect emotionally after all."
Northern California Art Conservators
878 El Camino Ave., Sacramento
(916) 564-5859, www.norcalart.org
By appointment only, 10:30 a.m-4 p.m. Tuesdays-Fridays.
No appraisals or authentications