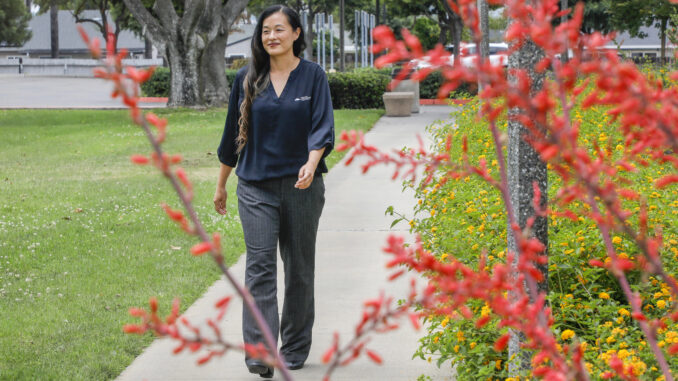 by Gail Allyn Short
Deciding on the next step toward a career can be anxiety-inducing. But transition specialists with the East Region Adult Education program based in El Cajon, Calif., are helping people follow their dreams.
Transition specialists assist adult education students who are moving on to community college or a university, or to apprenticeships, internships, career training or jobs.
Joyce Liou, senior transition services coordinator for ERAE, says many of the students she and her team counsels are refugees striving to build new lives in the United States.
"Some are just seeking career readiness skills so they can either switch employment or find more gainful employment," Liou says.
Liou and her colleagues provide personal, one-on-one guidance to students who want to determine their career paths and identify the most affordable options for education or job training in in-demand fields. This might include learning to drive a truck, enrolling in a culinary arts or paralegal program, or earning an associate's degree in nursing.
"Those transition periods are the most crucial because it either goes well and there's a smooth transition and on-boarding with the organization they're going into, or it's rocky and filled with challenges and barriers," she says.
Those barriers can include insufficient finances, food insecurity, inadequate housing or transportation, or a lack of childcare.
"For some of our students, once those challenges and barriers become too much to navigate, that's when they say, 'This isn't for me. I'm going to try and find something else,' and it sets them back financially, time-wise and in their level of motivation and confidence," she says.
Transition specialists start by helping students to identify their career goals.
"Then we figure out OK, here are all the options available. We look at potential obstacles with each of these options. Then we say, 'Let's talk about the time it will take, the costs, and the balancing of other life responsibilities to make that a viable option,'" Liou says.
Once the student identifies the goal, whether it is education or a training program, the transition specialist will work with them to map out a plan and set milestones. Afterward, the transition specialist checks in periodically to make sure the student has all the support and resources needed to execute the plans and overcome obstacles.
One common obstacle many students face is the lack of time—due to family or work obligations.
But transition specialists help students figure out which programs would best fit their lifestyles, she says.
"The training programs offered through the adult school are short-term. So, we can usually work out ways to balance the other life responsibilities they have for the four, eight, or 16 weeks they need to be in a training program," Liou says.
On the higher education side, students today have more flexibility because colleges and universities now offer more online classes and content—so students can work around their own schedules, she says.
Another common hindrance students face is misinformation, such as who can qualify for college, Liou says. But transition specialists are able to help students sort out facts from fiction.
"They come in, not really knowing what options they have. They don't know who to go to or who to talk to, so they'll hear things in the community and latch onto potentially false information. Then they make all subsequent decisions based on misinformation," she says.
Additionally, transition specialists assist students with managing fear and anxiety as they navigate through the education system.
"The first step is establishing a rapport and a working relationship with the student where they feel comfortable disclosing those emotional barriers. Once that happens, it's easier for us to start planning and problem-solving so that we can support them," Liou says.
And transition specialists are committed to guiding students for up to a year after they graduate or enter the workforce. Her advice to anyone interested in adult education?
"Come, sit down and let's talk."
For more information on East Region Adult Education, visit https://adultedworks.org/