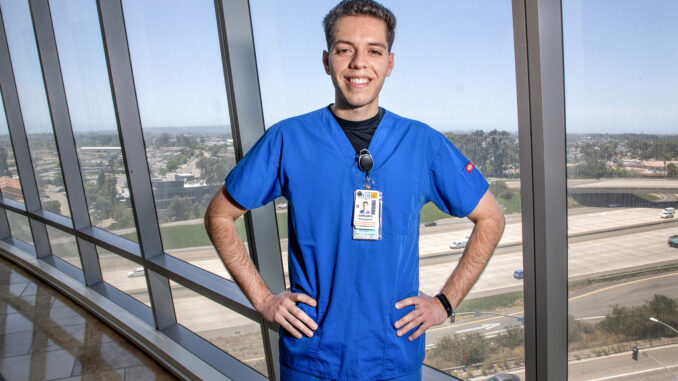 by Anh Nguyen
East Region Adult Education offers flexible schedules and multiple class locations that focus on supporting the region's adult learners.
The ERAE consortium, which includes Grossmont Adult Education, Grossmont College, Cuyamaca College and Mountain Empire Adult Education, provides low-to-no-cost English as a Second Language courses, as well as General Education Development and High School Diploma courses and career training programs in health care, construction, office administration, child development and human resources. Many of the programs combine academic or skills training along with language development, so students can learn quickly—and often specifically for their industry.
Carlos Vidrio started taking ESL classes at Grossmont Adult Education one month after he arrived in the United States. He says his cousin, who is a former student at ERAE, told him about these English language programs and encouraged him to enroll.
"I started a full-time job in the afternoon, and in the morning, I was attending a class called 'ESL for medical careers,' " Vidrio says. "It is very important for me to learn English, especially to communicate with people and to obtain better jobs with better pay."
Vidrio chose ERAE because of its low prices, recognition in San Diego County and its close proximity to his house. His class was taught four days a week in El Cajon and one day a week in the Santee location. This was important because he didn't have a car and faced challenges commuting to school. But he could bike to school every day, which took him roughly 20 minutes.
"Ms. Neda and Mr. Bill were amazing at teaching the class, and thanks to them, I later got certified as a caregiver," he says.
In fact, Vidrio was able to navigate the flexible scheduling offered by ERAE to continue his education. He started the Certified Registered Nursing Assistant program at the Health Occupations Center, a part of Grossmont Adult Education. The program consists of four months of lectures and simulations, both in a laboratory and in clinical rotations. During that time, he was cleaning floors at the mall in El Cajon, then moved to a job as a Direct Support Professional, where he cared for people with disabilities.
But when he received his certification, he was able to obtain his current job at a local hospital as a CNA in the oncology department. He is also taking prerequisites for the Registered Nurse program at Grossmont College. His eventual goal is to work as a Registered Nurse in a pediatric oncology unit.
"Dynamic classes, well-equipped classrooms, Chromebooks for all students, as well as highly-prepared teachers, made both the ESL and the Certified Nursing Assistant classes more feasible," Vidrio says.
His advice to others? "If the opportunity was given to me, I would not waste it for anything," he says.
For more information on East Region Adult Education, visit https://adultedworks.org/