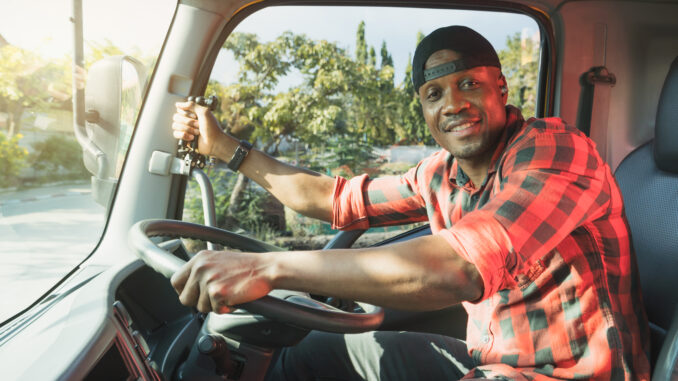 by Jill Spear
Adam McIntyre, driver supervisor at Eagle Distributing, has hired justice-involved individuals and encourages others to do the same. "I've never had a bad experience hiring anyone who'd been incarcerated," he says.
His most recent hire is truck driver Biniam Gebrezgi. "He has the work ethic and hustle that you need for a route delivery driver," McIntyre says. "On his first day, he was already pulling the correct packages from the truck and printing the pick sheet, which has all the line items from the delivery. It was good to see that he was processing and learning our portfolio pretty quickly."
Gebrezgi began the road to employment with Veronica Aguilar, employment and training counselor at Sonoma County Job Link. She connected him to the Sonoma County Workforce Investment Board, and with the help of a Prison to Employment grant, his truck driver training was paid for, along with rental assistance.
A proactive individual, Gebrezgi followed job leads on his own before applying for the job with Eagle Distributing. He also researched schools for his children. In December 2021, he earned his Class A driver's license and was hired by Eagle three weeks later.
"The people we help are motivated to change and all they need is an opportunity," says Aguilar. "I think it's essential to have partnerships with employers in the community so they can see the potential in justice-involved individuals. They just need a chance."
She adds, "People like Biniam that come through and complete a program—that's dedication and determination. I tell our clients they should be proud of themselves."
Aguilar and Sonoma County Job Link provided a variety of services to Gebrezgi and other job seekers, from career assessment and job search services to training. They also do a quarterly follow-up to see how each client is faring.
Gebrezgi is already considering long-term goals, like getting his GED and his own apartment, and he plans to build his credit. He's also hoping to get an endorsement that can add to his Class A truck driving certification. "He's doing all he can to improve his situation," says Aguilar.
Adds Gebrezgi, "I'm grateful for the job, and feel like I have a lot of options now. The pay is good, and I enjoy the work."
McIntyre, who has 18 years of experience in the industry, says, "If someone wants to get a good job and make a good income, consider the truck driving industry.
"It's definitely been hurting," he adds. "Truck driving isn't for everybody, but there's a huge array of opportunities, from long-haul work to a 9-to-5 delivery job, whether it's soda, beer or ice. Eagle just does local routes so you're home every night. Drivers work four days a week for nine to 10 hours a day, and they're home on weekends and Mondays."
To learn more, see https://sonomawib.org/